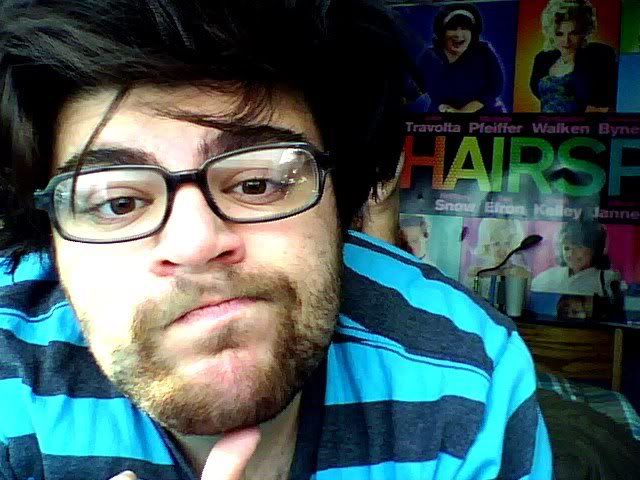 That is the face of an old man. I've been on this thing for hours and I just went to listen to some Kayne West when I realized that I didn't import his new cd into my itunes…so I had to get out of bed and walk to my car in the cold to get it out of the cd holder in there. Gag. I didn't want to move; my body hurt. Maybe I was just laying too long, but my back hurt when I got up.
So I walked to the car in a tshirt, sweat pants, and my caramel moccasins that I made Fran buy me for Christmas. And to top it off I had my big grey glasses on…so yeah, I'm an old man. Whatever. Don't judge, bitch.
Kayne is one of my favorite black people; he's up there with that little girl with an afro from target, Angie, and Dion from Clueless. His new album isn't my favorite but his song "Robocop" is pretty tight.
Okay, so I'm pretty fucking happy right now. I'm sitting on the couch, in an empty house. I have the house to myself! I haven't been alone in my house in like, forever.
Anyway, I called Long Island Beauty School and I have an interview at noon on Tuesday. I'm really excited about it too. I'm walking around my house and I keep thinking about everything after beauty school. What's going to happen? I'm making egg salad right now and I took a bowl out and I got this little mental image of me, in an apartment in the city and doing things on my own. I really really want to move out. I can't wait to have my own place and just do whatever I want.
I see myself in the city and I can't wait to live there. I don't know if I want to live alone, or if it would be cooler to live with a friend of two…Christina keeps telling me that she would get an apartment with me, and Fran told me so too…jesus, when did I become such a cool person to live with? Daaayumm.
Linda texted me today telling me that her neices salon is closing in two months, but she needs someone to work for her until they close..so…I will be working in Strandz salon in Center Morches for two months…probably doing paper work and answering phone and stuff (channeling Gaumer), and I'm pretty excited about it. I'm going to start beauty school, and work in salon, and be this awesome hairdresser and completely fabulous and live in the city and just be awesome. ^_^